Spanish-english-spanish translation services, by native speakers.

"De todo un poco" / "of everything a little".

Questions/preguntas: bcalvert76@gmail.com

<! spanish search code>

<! english search code>
These may interest you: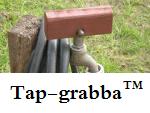 Tap-grabba™ information
www.detodounpoco.com.uy - Marketing Relacional, Tecnologías de la Información, Educación y Sociedad.
www.unpocodetodo.com - blog de Carlos Domingo
Informaci�n para la gente que quiere emigrar a Australia.
Food:
Casa Iberica
25 Johnston Street, Fitzroy
(Melways 2C A7)
Tel: (03) 9419 4420
also: Latin Deli
Spanish language classes, in Melbourne
Fiesta Jazz radio show, downloads available or listen to PBS FM 106.7 Melbourne, Saturdays 11:00am to 1:00pm.
Fusion Latina TV - community TV show.

Environmental Building Centre of Tarnagulla